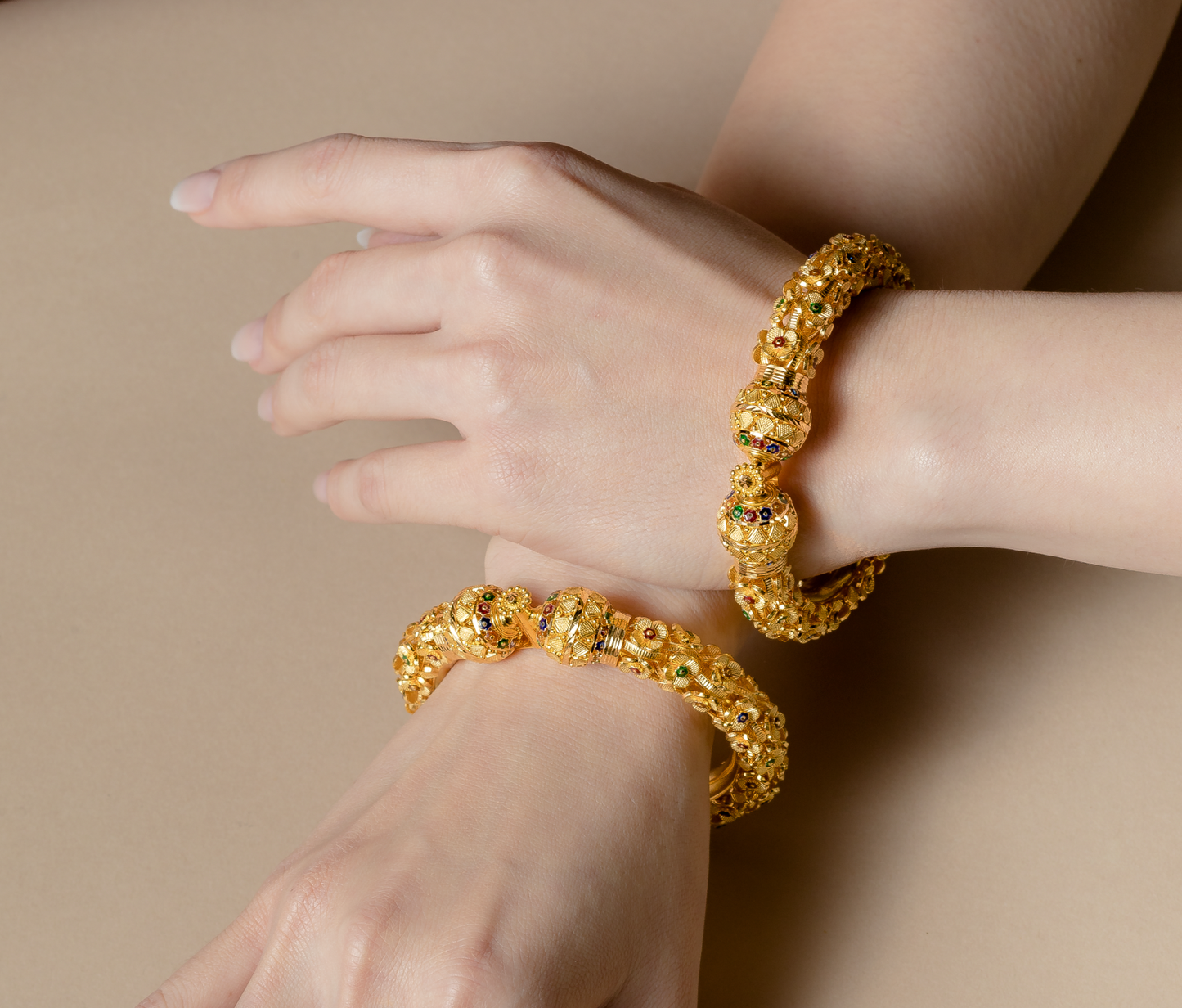 Bangle Sizing for Indian Jewellery
Sizing for Indian bangles can be a bit different from sizing for other types of jewellery. This is because bangles are meant to be worn snugly on the wrist and should not move around or rotate too much.
This is usually expressed in inches or centimeters and indicates the inner diameter of the bangle. 
Indian Bangle Sizing Chart
| | | | |
| --- | --- | --- | --- |
|  Fit | Size | Inner Diameter | Inner Circumference |
| XS | 2-4 | 2.25 | 7.06 |
| S | 2-6 | 2.37 | 7.45 |
| M | 2-8 | 2.5 | 7.85 |
| L | 2-10 | 2.62 | 8.24 |
| XL | 2-12 | 2.75 | 8.63 |
If you are unable to find a bangle in your exact size, you may be able to have one custom-made to fit your wrist. This is a good option if you have a very small or very large wrist, or if you have difficulty finding a bangle that fits well.
Choosing your Bangle Size
Indian bangles are traditionally sized using the "two-finger" method, which can be a bit confusing if you're not used to it.
Below, our jewellery consultants will explain how to determine your bangle size so that you can find the perfect fit for your hand. 
Step 1: Measure using the two-finger method.
The first step in determining your bangle size is to measure your hand using the two-finger method. To do this, simply place two fingers between the base of your hand and your wrist. The size of the bangle is determined by the width of this gap, with the bangle fitting snugly around your hand when worn.
Step 2: Measure with a Ruler
The most common sizes for Indian bangles are 2.4, 2.6, and 2.8 inches, which correspond to small, medium, and large sizes, respectively. To determine which size is right for you, simply measure the width of your two-finger gap using a tape measure or a ruler. If your measurement falls between two sizes, it's best to go with the larger size to ensure a comfortable fit.
Try it on at our Atelier
Keep in mind that the size of the bangle can also be adjusted slightly by gently squeezing or stretching the bangle to fit your hand more comfortably. If you're not sure about the fit, it's always a good idea to try on the bangles before purchasing them to make sure they feel comfortable and secure on your hand.
Make a trip to the HC Jewellers Atelier in the Historical Punjabi Market and have your bangle sizing measured professionally. 
Shop our Bangles here.